I Love Greek Food!
In fact, I love it so much I've gone back 3 times to be able to get more in my belly! Interestingly enough, unlike EVERY other place I go to whenever I travel, I don't gain any weight on my trips – I actually lose weight! Greek food is just so satisfying and so full of flavour, I leave feeling content!
Check out just a few of my favorite Greek Recipes:
Greek Style Peppers Stuffed With Orzo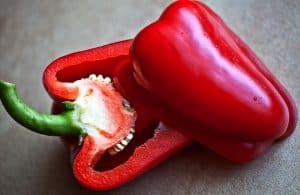 Ingredients:
4 yellow, orange and/or red bell peppers
½ cup whole-wheat orzo
1 15-ounce can chickpeas, rinsed
1 tablespoon extra-virgin olive oil
1 medium onion, chopped
6 ounces baby spinach, coarsely chopped
1 tablespoon chopped fresh oregano, or 1 teaspoon dried
¾ cup crumbled feta cheese, divided
¼ cup sun-dried tomatoes, (not oil-packed), chopped
1 tablespoon sherry vinegar, or red-wine vinegar
¼ teaspoon salt
Directions: 
Bring a large saucepan of water to a boil, then add in the orzo and cook approximately 8-10 minutes, before draining. Rinse with cold water.
Cut the peppers in half through the stems, but leave the stem attached! Remove all the seeds and the membrane from the pepper, and place them skin-side up in a microwavable bowl/plate. Add water, (approximately 1 cup, depending on size of bowl- to make it up 1/2 an inch), cover and microwave full power for approximately 8 minutes until they start to soften. Drain, and set aside.
Start heating oil in a large skillet, up to medium. Saute the onion until it softens, and then add in the oregano and spinach, and cook until the greens start to wilt slightly. Add the chickpeas, tomatoes, vinegar, salt, orzo and 1/2 cup feta cheese. Cook this mixture until it is heated completely through, and then split it up equally amongst each of the peopper halves. Garnish the peppers with the remaining feta cheese, and enjoy!!
Mediterranean Portobello Burger
Ingredients:
1 clove garlic, minced
½ teaspoon kosher salt
2 tablespoons extra-virgin olive oil, divided
 4 portobello mushroom caps, stems and gills removed
4 large slices country-style sourdough bread, cut in half
½ cup sliced jarred roasted red peppers
½ cup chopped tomato
¼ cup crumbled reduced-fat feta cheese
2 tablespoons chopped pitted Kalamata olives
1 tablespoon red-wine vinegar
½ teaspoon dried oregano
2 cups loosely packed mixed baby salad greens
Directions:
Fire up that grill to a medium-medium high heat! While you are waiting, mash the salt and garlic together until they are pasty – a rolling pin on top of a ziploc is always a good tool. Mix the garlic salt mixture with approximately 1 tbsp on oil, and then brush this mixture over your portabello mushrooms.
Now, grab your tomato, feta, vinegar, olives, red peppers, oregano and the rest of the oil (approximately another 1 tablespoon) and mix together in a bowl.
Throw your portobello mushrooms on the grill and keep em cookin until they become quite tender, and throw the bread on once they are almost ready to go to crisp it up a bit.
Next – toss the salad greens with that red pepper and tomato mixture. Put your mushrooms topside down on the 1/2 of the bread slices, then place the red pepper and tomato mixture ontop, and complete the burger with the last piece of bread. Now enjoy!
Greek Salad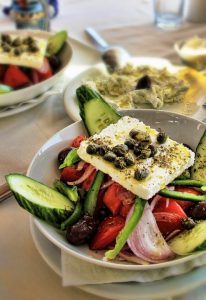 Dressing Ingredients:
1⁄3 cup extra virgin olive oil
1 teaspoon dried oregano
1 teaspoon minced garlic
1 tablespoon red wine vinegar
1 tablespoon fresh lemon juice
salt and pepper
Salad Ingredients:
1 head romaine lettuce, torn into bite-size pieces
1 cucumber, peeled,seeded and sliced
1 small red onion, thinly sliced
1 red bell pepper, seeded and cut into thin strips
2 tomatoes, cut into thin wedges
10 fresh mint leaves, finely chopped
6 ounces feta cheese, crumbled
15 -16 kalamata olives
4 -5 mild pepperoncini peppers, whole (optional)
Directions: 
First step: place the dressing ingredients together in a small bowl and whisk together.
Next, combine all the salad ingredients together in a bowl, toss with the dressing. Add salt and pepper to taste. Enjoy!
Greek Eggs
Ingredients: 
red bell pepper, roasted, peeled, seeded and sliced
1⁄4 cup extra virgin olive oil
8 eggs
1⁄4 lb Greek feta cheese, crumbled
crushed red pepper flakes, to taste
salt & freshly ground black pepper
Directions: 
This quick and easy recipe is done in just minutes! Heat your oil up in a medium size skillet until hot.
Add the eggs and cook until they are done to taste. Place them on your breakfast plates.
Keep the skillet warm, and use the remaining oil to heat up the feta, peppers, crushed chilies, salt and pepper, before distributing evenly over the eggs. Enjoy!