Is a Healthy Fat a Contradiction?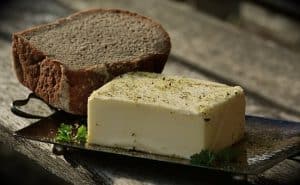 Well, it's been made official- fatty foods, despite all of our preconceptions, actually aren't the villain anymore! According to a recent study in 2016 from the American Journal of Clinical Nutrition, fat doesn't necessarily make you fat. It's no true that all calories affect the body in the same way- different types of calories that come in the form of carbs, starch, and sugar, raise hormone insulin, which trigger our bodies to store fat, rather than process it.
According to the article by the CBC news,
Hyman says that these beliefs have been thoroughly disproved. He points to a scientific review of dozens of observational health studies that found there is no clear link between heart disease and saturated fats. Foods high in saturated fats include coconut oil, butter, nuts, poultry and red meat.

The effect of saturated fat on overall health still remains a contentious topic among nutritional scientists. While a 2016 study from the American Journal of Clinical Nutrition found that consumption of lowly-processed saturated fats in conjunction with fresh vegetables and rices decreased fat storage and risk of heart disease, many health authorities continue to recommend diets low in saturated fats.
Read the full article here. Thanks CBC News!
In Canada, one of the provinces' Government recommends including a small amount of plant-based (also knows as unsaturated) fats each day. Some of the foods that are included in this category are:
Fatty fish, nuts, avocado, olives, seeds, and healthier oils. With that being said, I thought I'd share a few of my favorite avocado recipes with you!
Southwestern Avocado, Corn, and Bean Salad
Ingredients: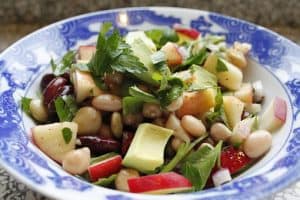 2 small heads romaine lettuce, torn into bite-size pieces (about 12 cups)
1 (15-ounce) can pinto beans, drained and rinsed
1 1/2 cups fresh corn kernels (about 3 ears)
1 avocado, chopped
1/2 red onion, thinly sliced
1/2 cup fresh cilantro sprigs
2 tablespoons extra-virgin olive oil
3 tablespoons fresh lime juice
1/2 teaspoon ground cumin
3/4 teaspoon salt
1/4 teaspoon pepper
1/2 (9-ounce) bag baked tortilla chips (optional)
Directions: 
First, combine the first five ingredients with the lettuce. Whisk the oil, lime juice, salt, pepper, and cumin together, and toss with the salad. Serve with the chips, if you would like a little crunch!
Check out the recipe for these delicious Tuna and Avocado Tapas on the next page!